800 ton Knuckle Joint Press, Horizontal Type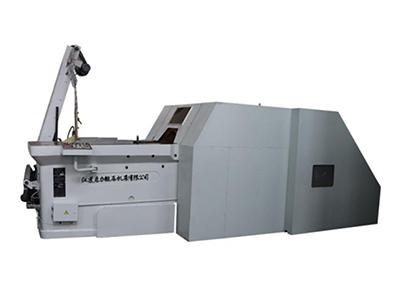 Description
The horizontal 800 ton knuckle joint press is designed with an automatic hoist, making it suitable for feeding heavy metal materials. It is designed to extrude metals with a hardness below 40HB, such as pure aluminum or aluminum alloy, zinc, copper and mild steel into circular, square, flat and other cylindrical and canned products through backward or combined extrusion. This press is capable of processing products with a maximum diameter of 130mm, a maximum length of 285 mm, at a speed of 16 pieces/minute. This 800 ton press is used to produce chemical packaging aluminum shells, capacitor aluminum cases, gasoline filters, automobile receiver dryers and more.
The finished products are known for their compact grain structure, which gives the products a better toughness, a higher tensile strength, a better compression resistance, bending resistance, and other mechanical properties. The extruded products feature a stable and accurate external diameter, length, wall thickness, bottom thickness and other sizes, as well as a smooth surface. The products are extruded in a single process, and do not require subsequent processing.
Sample drawings
Power battery casing

Auto parts

Gasoline filter

Fire extinguisher cylinder
Specifications
| | |
| --- | --- |
| Item | JA88-800 |
| Nominal force(KN) | 8000 |
| Nominal force distance(mm) | 60 |
| Slide stroke (mm) | 410 |
| Stroke rate(min-1) | 16 |
| Max. Tool shut-height(mm) | 930 |
| Adjustment of shut height (mm) | 16 |
| Max. Diameter of blank (mm) | Ф130 |
| Max. Length of blank (mm) | 285 |
| Main drive motor power(kW) | 132 |
Features of 800ton Knuckle Joint Press
1. This 800ton knuckle joint press uses a multi-connecting rod knuckle joint mechanical transmission mechanism for a stronger extrusion force. There is also a dwell time when the sliding block approaches the end, allowing for a better plastic workpiece deformation.
2. The integral cast steel machine body has an excellent rigidity and compact resistance, giving the cold forging press a service life of more than 30 years under proper operational conditions.
3. This cold forging press features an easy die installation and adjustment.
4. The use of automatic feeding and discharging devices allow for a single operator to simultaneously operate several machine tools, thus saving labor and labor costs.
Automatic feeding hoist

Manipulator automatic feeding device
5. An automatic cycling lubrication system and operation safety protection system are installed. The automatic feeding devices, such as a hoist, are optional in order to meet different application requirements.
6. The usage of a high precision copper guideway and accuracy die adjustment device ensures extruded product shape and size accuracy match the product drawing requirements.