265 ton Knuckle Joint Press, Horizontal Type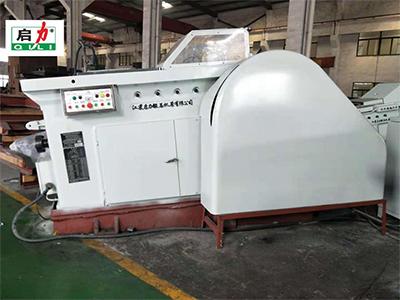 Description
The horizontal 265 ton knuckle joint press is intended for extrusion forming of nonferrous metals with a hardness below 40HB, such as pure aluminum, zinc, copper, and more. Qili's 265ton cold forging press is capable of processing products with a maximum diameter of 60mm, a maximum length of 220mm, and a speed of 58 pieces/minute. This knuckle joint press is used to manufacture capacitor aluminum housing, oil filter housing and caps, battery zinc tubes and other cylindrical and canned products.
Products extruded using this equipment feature a compact grain structure, which gives the products a better toughness, a higher tensile strength, a better compression resistance, bending resistance, and other mechanical properties. The extruded products feature a stable and accurate external diameter, length, wall thickness, bottom thickness and other sizes, as well as a smooth surface. The products are extruded in a single process, and do not require subsequent processing.
Sample drawings
Capacitor aluminum housing

Flashlight aluminum shell

Pesticide bottle and other aluminum squeeze tube

Irregular products
Specifications
| | |
| --- | --- |
| Item | JB88-265 |
| Nominal force(KN) | 2650 |
| Nominal force distance(mm) | 8 |
| Slide stroke (mm) | 342 |
| Stroke rate(min-1) | 58 |
| Max. Tool shut-height(mm) | 460 |
| Adjustment of shut height (mm) | 12 |
| Max. Diameter of blank (mm) | Ф60 |
| Max. Length of blank (mm) | 220 |
| Main drive motor power(kW) | 22 |
| Overall dimension (L X W X H) (mm) | 3600X1500X1800 |
| Machine weight (kg) | 9000 |
Features of 265ton Knuckle Joint Press
1. The 265 ton knuckle joint press uses a multi-connecting rod knuckle joint mechanical transmission mechanism. Compared to a crankshaft mechanical transmission and toggle mechanical transmission, this equipment features a strong extrusion force and offers a better plastic deformation on the workpiece.
2. The integral cast steel machine body features an excellent rigidity and strong compaction resistance, giving the cold forging press a service life of more than 30 years.
3. This cold forging press features an easy die installation and adjustment.
4. The use of an automatic feeding and discharging device allows one person to simultaneously operate several machine tools, and thus, save labor.
Automatic feeding device

Automatic discharging device
5. This cold forging press is equipped with an automatic cycling lubricating system and operation safety protection system, plus an optional hoist and other automatic feeding devices to meet different application needs.
6. Through the use of a high precision copper guide way and an accurate die adjusting device, the extruded product shape and size accuracy are guaranteed to meet product drawing requirements.