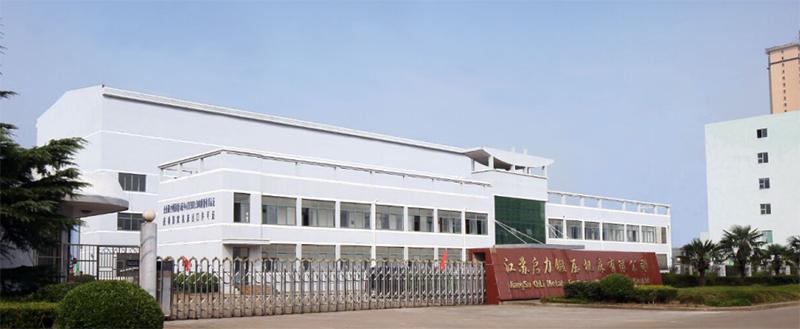 A leading manufacturer with over two decades worth of experience in the design and production of cold forging presses, Jiangsu Qili Metal Forming Machine Tool Co. is here to provide customers with an extensive selection of horizontal cold forging presses and vertical cold forging presses. Through backward or combined extrusion methods, materials such as aluminum, zinc, tin, copper, mild steel, and other materials can be extruded into circular, square, flat, and other shaped products with great energy efficiency. Our cold forging presses can satisfy the diverse production demands of battery zinc tubes, aluminum squeeze tubes, power battery aluminum shells, aluminum water bottles, and much more. Considering the extremely varied demands of different industries, Qili offers cold forging presses rated for different tonnages, such as 10000kN, 8000kN, 5000kN, 3500kN, 3150kN, 2650kN, 2000kN, 600kN, etc.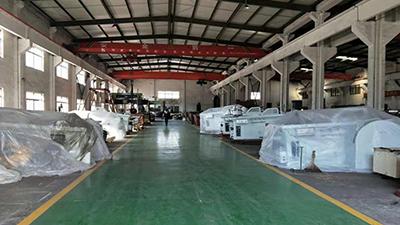 Manufacturing
The Qili manufacturing plant spans an area of 38000 square meters and this is where we independently complete parts processing, machine assembly, and inspection on all of our products. Thanks to fully equipped factory, we have the capabilities to provide high quality equipment at a competitive price.
To guarantee the machine quality, our highly experienced team can handle all of the tasks of manufacturing and assembly with a high degree of skill and efficiency. They carry out gear cutting, grinding, welding, and electronic assembly. The machining workshop is equipped with 45T and 30T hoisting cranes, a floor type boring and milling machine, double-shaft boring mill, horizontal boring and milling machine, and other highly advanced machining equipment that is used to ensure the machining accuracy and consistency of each part. Quality, stable parts guarantee the durability of the equipment and its long term stability. The workers responsible for equipment assembly have years of working experience and are very familiar with the equipment structure, maximizing assembly efficiency and accuracy.
Service
In addition to the production of our line of cold forging presses, Qili also employs a technical team offering clients professional and comprehensive services, including design consultation regarding upgrades, remolding, and the reassembly of cold forging machines. Any questions put forth by customers will be responded to within 24 hours.
If you are unfamiliar with our equipment and want to know how it all works, we can give you an exclusive demonstration in our special exhibition hall.
As for after-sales services, Qili will provide your workers with comprehensive training services as well as spare parts replacement services. All machines are covered under a 1 year warranty. However, you can still contact us to purchase damaged parts.
To date, Qili has manufactured over 8000 sets of cold forging presses for domestic and international enterprises. You will find our equipment in Russia, France, Portugal, Mexico, Brazil, Myanmar, and throughout the Middle East. The quality of our equipment and services have been widely praised by our customers.